Today's data center architecture must support a highly-mobile workforce, proliferation of devices, data-driven business models, and be capable of seamlessly incorporating cloud applications and services. To meet these diverse requirements, Cisco offers the Unified Data Center platform, a unified data center architecture that combines compute, storage, network and management into a platform designed to automate IT as a service across physical and virtual environments, resulting in increased budget efficiency, more agile business responsiveness, and simplified IT operations.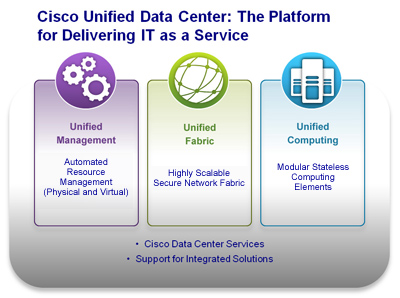 Unified Data Center provides a complete architecture platform including products and solutions in three critical areas:
– Servers
Cisco Unified Computing System (UCS) anchors the Cisco data center architecture with a highly-scalable, system-level computing solution that integrates computing, access networking, and storage networking. Embedded management capabilities simplify operations across physical, virtual, and cloud infrastructure.
– Storage
NetApp offers powerful, affordable, flexible data storage for midsized businesses and distributed enterprises, The NetApp® FAS2200 series, named a 'Champion' and 'Best in Overall Value' by Info-Tech Research Group, is affordable, and is a more powerful storage platform than other systems in its class.
Virtualization is the single most effective way to reduce IT expenses while boosting efficiency and agility—not just for large enterprises, but for small and midsize businesses too.